While the mission of Toronto Against Abortion is to make abortion unthinkable throughout all of the GTA, we have a particular focus on university and college campuses. Our volunteer multi-campus activism team is mostly made up of pro-life students from Toronto universities and colleges, and the age demographic (early 20s) is most at risk for abortion. We have campus teams at all universities in the city, and some colleges. Orientation Week is a great opportunity to reach incoming students, and this week we were active sharing the pro-life message across the city.
At York University, TAA's York Team ran "Choice" Chain during Orientation Day. Our York Team only began activism this past Winter, so this was the first Orientation Week we were present — and we were thrilled with countless conversations and great visibility! We brought a tablet with us, and after showing a video describing a 1st trimester abortion procedure, multiple people changed their minds on abortion became pro-life.
At Ryerson University, TAA's Ryerson Team — denied recognition as an official student group by the student union simply on the basis of our pro-life beliefs — ran "Choice" Chain during campus groups day. While the student union may deny us equal access to table at campus events, we do not need their permission to share the pro-life message on the street. We continue to change hearts and minds on abortion, even leveraging attempted censorship to make the victims seen by more people.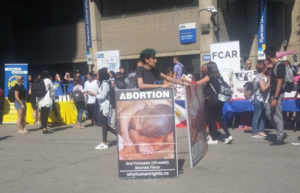 At the University of Toronto, where TAA works alongside U of T Students for Life (as well as UTMSFL and UTSCSFL), we made the victims of abortion visible during the Tri-Campus Orientation Week parade, reaching incoming students from U of T, UTM and UTSC. Thousands of people saw the photo evidence of the injustice. We'll continue to follow up week by week at all three campuses alongside pro-life clubs to dialogue with students.
We also ran "Choice" Chain nearby during the clubs fair.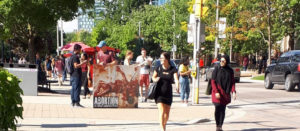 Finally, TAA was on hand to assist at Tyndale University in student-led effort to start a pro-life club on campus. We were thrilled by the number of pro-life students who signed up, and look forward to working with the Tyndale club this year!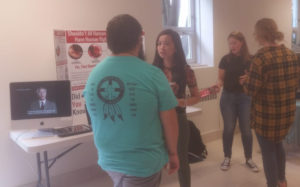 By transforming university campuses, TAA is working to end the killing in Canada by transforming its largest city. Orientation Week is just the start of the semester. We'll continue to follow up week by week across Toronto campuses, making the victims of abortion visible, and changing hearts and minds one photo and one conversation at a time.